Papastew Geese | Niska Call
Join us at dawn on May 1st 2021 in listening to sounds from the lake at Hawrelak Park in Ward Papastew, located on Treaty 6 Territory in Amiskwaciy Wâskahikan / Edmonton, Alberta. For more info, check back here again closer to May 1.
A live stream from this and other international locations is accessible through Soundcamp's project REVEIL 24 hour Broadcast 2021, as part of International Dawn Chorus Day. Get up early and follow the dawn chorus around the world with this fantastic project.
Schedule
Civic twilight to 5.45AM MDT: Niska The stream will start with sounds of local and migratory birds that call the location home, especially Canadian Geese.
5.45AM MDT: Papastew Geese Call [Artist's Responses]
Artist's responses will start around 5.45 am in civic twilight and go on till shortly after sunrise, approximately 20-30 minutes.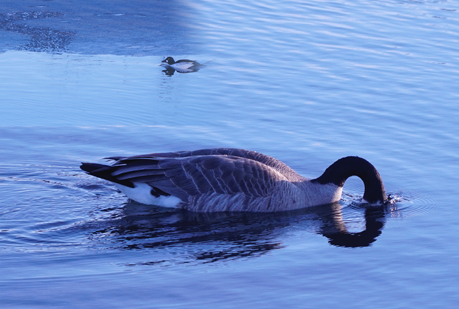 The location
For this year's Dawn Chorus, we will be streaming from the east side of the lake in this urban park on Treaty 6 Territory in Amiskwaciy Wâskahikan (Edmonton), Alberta. The 5-hectare, human-constructed lake is a gathering place for many migratory birds, and is the summer home of a community of Canadian Geese. The east side of the lake edges forest paths that look over kisiskâciwanisîpiy, the North Saskatchewan River. Kisiskâciwanisîpiy starts from the Saskatchewan glacier in the Rocky mountains and joins other tributaries until it finally flows into Asiujarjuaq (Hudson Bay). Kisiskâciwanisîpiy has long been a meeting place and major route for the numerous indigenous peoples who have lived here for thousands of years.
Birds also have migrated and settled here for thousands of years.  Urban and colonial development and anthropogenic climate change have forced many migratory birds to change their routes and breeding sites, and many Canada Geese now return yearly to urban sites such as this one. Frequently city-dwellers see the geese and other urban wildlife here (such as coyotes, beaver, and porcupines) as an encroachment and problem despite constant urban development that encroaches upon natural habitats for these and other species. Cities address the geese in their rhetoric as a 'problem' rather than challenge city- and suburb- dwellers to accept that they might be the problem, expecting wildlife to change its ways or places of being or be moved.
The moment
During times of lockdown in the pandemic, sounds of birds and other wildlife were reminders of who we share our spaces with, of the lives and species humans often take for granted. After spending many months inside here in northern Alberta, the sound of the returning Canadian Geese was like the ringing of a thousand bells, waking us up from a cruel year of physical, political and emotional turmoil. The birds remind us that life will go on, even without us, that borders formed by our political minds are not theirs. If we watch and listen, we can see the geese skating on the wet ice of the lake, ducks and geese plunging into the open waters, follow a muskrat foraging along the lakeshore and hear woodpeckers rattling the sides of dead trees. If we stay into the night we can hear the owls and coyotes howl.
After the birds wake up for this dawn chorus day, we will respond to the birds, with our sounds, and questions – what did it look like from up there? are we any different? How can you put your head under water so long?
Papastew Geese Call [Artists Responses]
After the initial stream of natural and local sounds, Flutist Chenoa Anderson, composer Ian Crutchley, and artist Leslie Sharpe will respond to the geese and other wildlife with sonic responses, including ocarina (Anderson), natural and mechanical soundmakers (Crutchley), and looping recorded questions that have gone through voice processing (Sharpe). Sounds will be responsive to the live stream, whereas the questions are prerecorded and processed, based on visits to the area, and on research on birds, migration, and the impacts of climate and habitat change on wildlife, particularly during the pandemic. We are also expecting the birds to continue to contribute their own audio as we visit them in this space.
Participant's Bios
Flutist Chenoa Anderson is a settler artist currently living and practicing in amiskwaciy-wâskahikan/Edmonton. She has commissioned and premiered dozens of solo and ensemble pieces, and is an active improviser who has worked with musicians, dancers, and spoken word artists. Current collaborations include UltraViolet, a mixed quartet specializing in new repertoire; Mixtur, with composer Ian Crutchley, performing experimental repertoire for flutes, electronics, video and found instruments; and damn magpies, a free improvisation sextet. She holds performance degrees from the University of Toronto (B.Mus.) and the University of British Columbia (M.Mus.).
Chenoa Anderson's first solo recording, Big Flutes: Canadian Music for Alto and Bass Flutes was nominated for a 2006 Western Canadian Music Award. Krishna's Flute was released in December 2013 and features new works for flute and interactive electronics.
https://www.chenoaanderson.com/
Ian Crutchley was born in Toronto, grew up in Surrey, has lived in England and New Brunswick, and seems to have settled in Edmonton. His ongoing education in creativity and in life have been informed by phenomenal teachers, students, and a remarkable menagerie of wise, sharing and loving people he has known at work and at play. A classical composer by training, his practice has broadened in recent years to include improvisation and performances with dancers and other artists. The sounds he uses can come from anything that he finds that seems useful, from traditional instruments to marbles to odd bits and bobs he has found in junk shops and alleyways. He has a particular fondness for transistor radios.

Ian is a founding member of the improvisation group damn magpies, manages a used bookstore and is Artistic Director of New Music Edmonton.
Leslie Sharpe is a settler artist living and working in Amiskwaciy Wâskahikan/Edmonton, Alberta. Sharpe works in outdoor and indoor installation, video, sound, and sculpture, in themes around climate change, animals, technology and colonialism. Sharpe lived in New York, California, and Bloomington prior to returning to Canada, where she is an Associate Professor of Fine Art at MacEwan University. She has taught art at IU Bloomington, Pratt Institute and at University of California, San Diego. Her current work employs video and sound recorded at historic Marconi sites in Canada and the UK along with photography, sound and sculpture to explore language and colonialism.  
Sharpe has been an artist-in-residence at Ivvavik National Park (Yukon, Canada), The Banff Centre, (Alberta, Canada), PS1 National Studio Program (New York), and Visual Studies Workshop (Rochester, NY). She has exhibited and presented her work internationally in Canada, Columbia, Finland, France, Germany, Spain, Turkey, the UK, and USA, as well as in online/live streaming digital formats.
Thank you to Grant Smith and Maria Papadomanolaki from Soundcamp, to Locus Sonus, and to the large sound-art and music community who are sources of inspiration and support.
This is my third time joining the international Dawn Chorus. In 2018, I streamed from Elk Island National Park and in 2020 from The End of the World
photo Leslie Sharpe